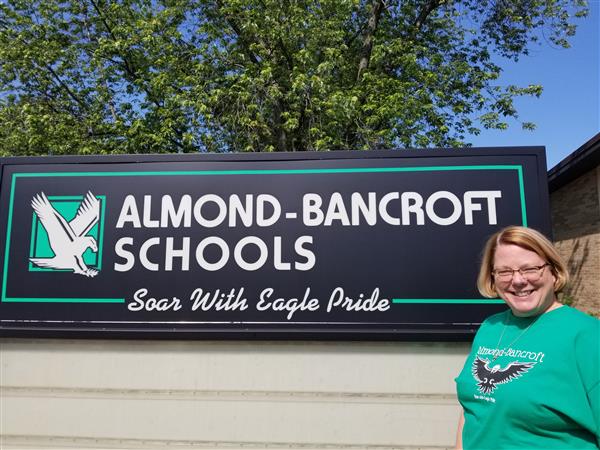 Phone: 715-366-2941 x418
Email:
Degrees and Certifications:
Dear parents, students and community members,

My name is Jodi Becker, and I am honored to be your new District Administrator. I am married to Danny and we have two children; Katie is 23 and living and working in Little Chute and Johann is 18 and going to UW-Platteville in the fall. Before coming to Almond, I was a high school English teacher and Director of Instruction in Berlin. It has been a whirlwind of activity since I officially joined the Almond-Bancroft School District family on July 1st. I am so thankful for the welcome that I have received from the board, staff, parents, students and community members that I have met so far.

I know one of the biggest questions going through your mind is what our reopening plan will look like this year. Will it be like it was last year or will we be going back to being like it was before Covid? We have been keeping on top of guidance from the CDC, DHS, Portage County and the WIAA and have developed a plan that we feel is a good compromise to get our schools closer to the way things were prior to 2019. There is an amazing team of staff that work all summer to make sure that we are ready for when the teachers and students come back in the fall. The safety of our students is always our top priority, so this plan could change based on state or county regulations or changes in the spread of the virus.

Masks will be optional in our schools.

Masks will be required on buses per the CDC order.

School will be in-person five days a week for K-12 students. The 4K program will be Monday-Thursday as usual.

There will be no fully virtual option available.

Physical distancing in classrooms will be 3' as possible.

Visitors and volunteers will be limited but allowed with pre-approval by administrators.

Cleaning and disinfecting protocols will continue with hand sanitizer available for students and staff.

Assigned seating will continue on buses with siblings seated together as much as possible.

Field trips will resume as appropriate.

Extra-curriculars, including sports, will not be limited in regards to participation or attendance of spectators.

I am very excited for the school year to begin, so that I can get to know the staff, students and parents better. My goal for this year is to listen, learn and understand where the Almond-Bancroft School District has been, where we are now and where we can go in the future. I will be in classrooms, working with teachers, and collaborating to develop a vision and plan of action to get there. I will do my very best to communicate with all stakeholders in multiple ways as we move forward. Please don't hesitate to reach out if you have any questions or concerns. We are in this together!